I have been a human-centered researcher for more than 5 years. It started from architecture, but later evolved to (re)design of technologies. My approach to Human-Centered Design (HCD) is two-fold:
1
The ABCs of Design: The Anthropometrics, Behaviors, and Cognition as the foundations of Human-Centered Design.
I cherish this approach for its attention to the human mind-body connection and its application beyond digital interface design as it pertains to all design practices.
2
Design Thinking: The five steps to design as Define, Empathize, Ideate, Prototype, Test, and then iterate.
As an architect, I learned to create personas, empathize with the clients or users of space, and (re)design. My intuitive knowledge of design helped me organize these processes and translate them to technology development and UX design.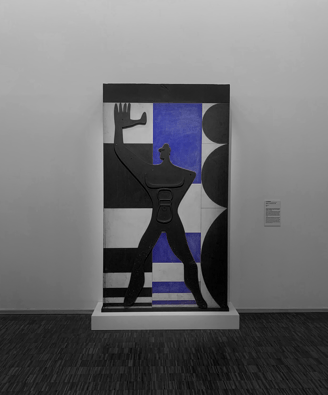 The Modular, Le Corbusier's idea of a "perfect" man for design proportions, Exhibited at Centre Pompidou, Paris, France
Click photos to watch the videos. More art and design projects can be found in my Design Portfolio at NODE.
Human-Computer Interaction in Art Form
Supporting Local Businesses
I encourage students to choose real-life examples and projects that will have local impact. This is essential to motivate students and prepare them for effective interaction with their future clients.
I teach HCD at Penn State. My intuition in design and education in HCI allows me to share my knowledge to the best of my abilities. In this course I teach students how to conduct user research, ideate, prototype, and conduct usability testing. Here are select student projects.